---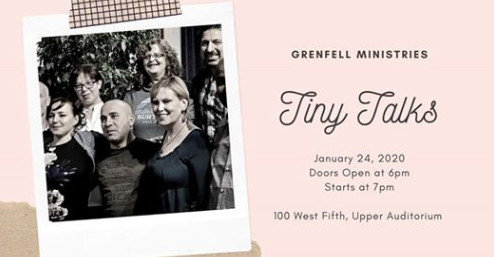 ---
Tiny Talks at St Joesph's West Fifth
Jan 24, 2020 – Doors Open at 6 pm
100 West Fifth – Upper Auditorium
Tiny Talks is lived experienced speakers with a focus on social justice and change! Topics include sex workers rights, decriminalization of narcotics, addiction, mental health, harm reduction and incarceration. This event is free to attend but donations are very welcome! All donations will be put to great community use by Grenfell Ministries!
Naloxone training will be offered before the event and information about naloxone will be available during the intermission by Marchese Health Care!

The training focusses on keeping the rescuer safe while helping someone who is having an overdose. The Good Samaritan Act legally protects rescuers. Naloxone has no other effects, so it won't harm someone if it is given accidentally to a person not having an opioid overdose.
If you think that you may be in a position to help someone having an opioid overdose and would like to be trained in how to use this lifesaving medication to reverse an opioid overdose, please attend one of our training events.
Be prepared! If you think that you are someone who might be able to help a person at risk of an opioid overdose then this training is for you. Learn what an overdose looks like and what to do to safely respond.
Everyone at the training will receive 2 free Naloxone kits. Naloxone is a medication that reverses an opioid overdose.