Learn to Save Lives in Gore Park -Fringe Festival
Saturday July 27th at 3 pm and 4pm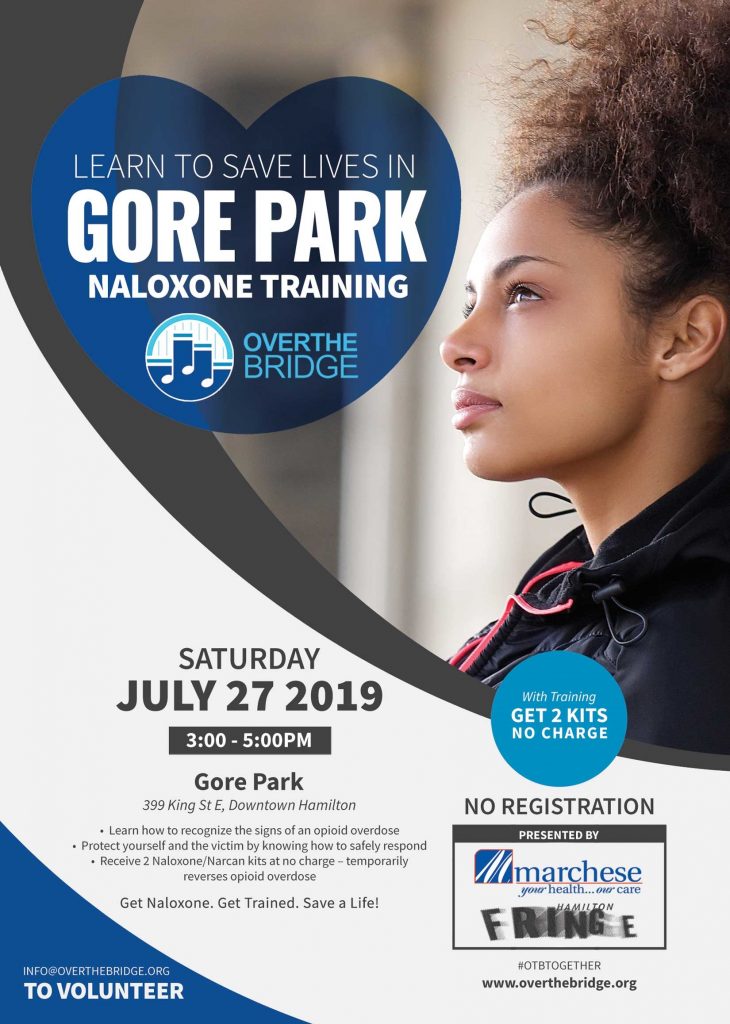 If you think that you may be in a position to help someone having an opioid overdose and would like to be trained in how to use this lifesaving medication to reverse an opioid overdose, please attend the Learn to Save Lives in Gore Park. We will be partnered again with Over the Bridge a non-profit organization that brings mental health and addiction supports to those in the music industry. This event will be part of the Fringe Festival
an action-packed performance event that takes place over 12 days each July throughout Hamilton.
Opioid overdoses can affect all ages and all walks of life. It is a serious problem as over 1200 people died in Ontario in 2017 due to the opioid crisis. The numbers of deaths and overdoses keep increasing.
Be prepared! If you think that you are someone who might be able to help a person at risk of an opioid overdose then this training is for you. Learn what an overdose looks like and what to do to safely respond.
Everyone at the training will receive 2 free Naloxone kits. Naloxone is a medication that reverses an opioid overdose.
The training focusses on keeping the rescuer safe while helping someone who is having an overdose. The Good Samaritan Act legally protects rescuers. Naloxone has no other effects, so it won't harm someone if it is given accidentally to a person not having an opioid overdose.